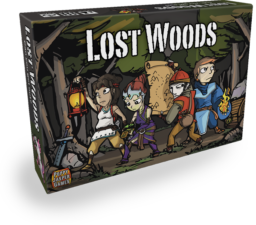 Lost Woods is an easy to learn adventure game. Players try to escape from the woods by choosing which direction they explore, creating a new map in each game.
The game is for 1 to 6 players and is ideal for people that like adventure novels and video games. It has many classic elements, but with unique game play mechanics making it fun for both serious and casual gamers. Games usually last 60 minutes.
EverythingBoardGames – Review – "I love the lighthearted nature of the game"
Father of Many – Review – "Good replayablity, choices that feel like they matter and just enough room for strategy to keep it interesting."
Booze and Boards –  Play Through – "I got a monster.  It's like an eagle-y lion guy."
Undead Viking – KS Preview (Early Prototype) – "Really?  Really?  I lost to a squirrel?"
Board Game Brawl – KS Preview (Early Prototype) "If you like fantasy humor, and you like tile laying, you might want to give this one a look."
"It's like Carsasonne with action." – Adam Rippon
"I keep thinking about the game and the more I think about it the more impressed I get. I can't think of any other games that play like that.  It wouldn't duplicate any game in my collection or that I know of. Yeah, really good job. Quite the display of creativity." – Steve Allhoff
"The game mechanics are simple. The dynamic board makes that no two games are alike, that's a thing that I love!" – Marco Gomes
"I can't believe that I had a 20 point lightning bolt and lost to a damn squirrel. That game is rigged I swear." – Jamie Ceglarz
The adventurers find themselves stuck in the Lost Woods equipped with items found around camp.  They must find a way out by choosing which direction to explore. Along the way they will find more useful weapons, discover wells of magic, and collect gold by defeating dangerous woodland creatures.  There are gnomes in the woods that will steal your gold.  Use a potion to change your odds. The player with the most gold wins the game when an adventurer finds the way out of the Lost Woods.
The primary mechanic in the game is a randomly generated map put together by a new card played on the map every time someone explores. No two games are exactly alike.  Weapons and enemies are drawn from bags.  You might fight a squirrel or a wizard!  Some maps spaces contain magic wells that grant you access to magic.  There's no guarantee that a particular spell will even make an appearance each game.
The game contains these awesome parts:
72 cards (in 4 directional decks)
10 Dice (2 each of D4, D6, D8, D12, D20)
6 Wood Game Pawns for the adventurers
6 Player mats
66 Wood Gold Pieces
94 Cardboard Tiles (Weapons, Enemies, Potions and Magic)
1 Cloth Bags to hold the tiles
1 Starting Camp Card
6 Reminder Cards
A plastic organizer
1 Spinner for the Co-op Survival variant